EXQUISITE SELECTION!

"Your large collection of picture frames is quite exquisite!"
-Lauren P., Chappaqua, NY
Framing Customer Since 2010
Picture Framing, Custom Frames and Custom Framing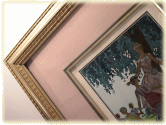 Think of your frames as an extension of your furnishing. As creative framers, we are attuned to your specific design needs, as well as the latest decorating trends. From classical elegance to cutting edge contemporary aesthetics, we have the ability to accent your home with a flair that flows from a strong sense of individualism and a reputation for being innovators in our field.
Specialized Framing
Custom Frames
Picture Frames
Conservation Framing
Plasma TV Frames
Poster Frames
Shadow Boxes
picture frame moulding
Frame Matting
Photo Frames
Antique Frames
and more...
THANK YOU!

"Thank you for the amazing frame design you created for custom framing my art."
-Susan M., Hartsdale, NY
Custom Framing Customer
Picture Framing
We offer an exceptional collection of frames. Our picture frames include museum quality frames, custom frames, hand carved frames, art frames, gold leafed frames, hand painted frames and European moldings. Each custom frame adheres to the picture framing standards set forth by the Library of Congress. Furthermore, we use the same high standards to frame your child's art work as we do to custom frame your antique art work.
Custom Framing Showroom
Visit our showrooms or contact us to get more information.